All in one solution to schedule, book and sell your services.
Our studio management software lets you manage everything from one place to schedule and book classes, workshops, courses, sell memberships, process payments.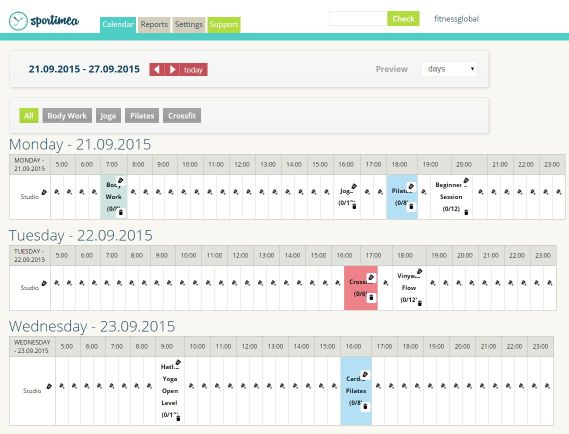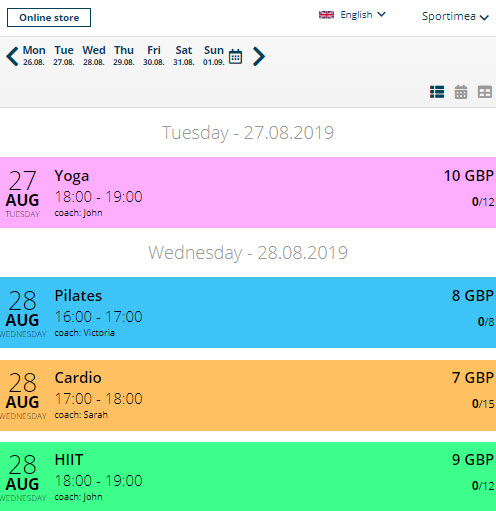 Provide your customers great user experience to find and book class, workshop or course in few clicks.
Turn your website into e-shop and immediately start selling your courses, workshops or memberships. Track your orders and process payments.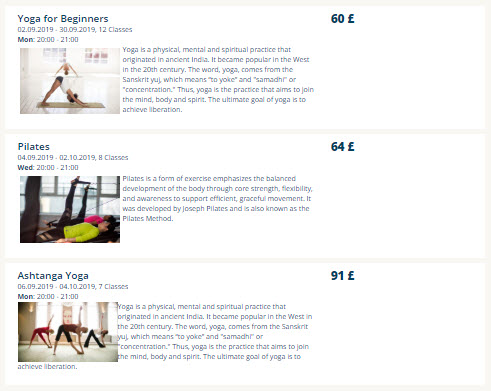 Manage your studio more efficient with our software
 Scheduling
Manage classes, courses and workshops in one place, all integrated.
 Course Management
Offer courses on your website, track payments and enroll clients into your schedule.
 Eshop
Sell your services online from your website and boost your revenues.
 Payments
Track customer payments and have full control of overdue payments.
 Marketing
Branded newsletters, discounts or vouchers to engage your clients and increase retention. All in one and automated.
 Branding
Use your logo and colours to brand Sportimea into your style.
 Staff logins
Allow to track attendance or collect payments on site.
 Reports
Usefull reports give a quick overview how your studio is going and help you learn more about your business to continuosly improve.
 Anywhere Anytime
Desktop or mobile run your studio on the go anywhere you are.
INTEGRATIONS
 Website
Sportimea can integrate into your website showing class schedule, courses and more.
 MailChimp
Allow your customer to signup for newsletter while booking or purchasing.
 Online payments
Take online payments by choosing your preferred payment provider.
What our customers say
"We are not getting thousands of emails for course signups. Sportimea save us a lot of time, when we were replying back to our customers and track them in excel tables. Immediately we know our class/course utilization. Our clients appreciate not calling to ask for class/course availability. Less phone calls, emails to book classes or makeups. Customer support is always here whenever we got questions or problem."
Marketa, Santosha
"Now with Sportimea we have clear attendace track and notify our clients if schedule change in few clicks. Customers simply create profile and book class on my website. We have overview of classes, teacher substitutions, adhoc changes, who is coming and who canceled. Support from Sportimea is excellent and fast responding. They absolutely satisfied our needs and I definitely recommend to other studios."
Martina, fit-marathon
Growth your business with us.
Let us help you simplify your daily operations and choose right solution to meet your needs.